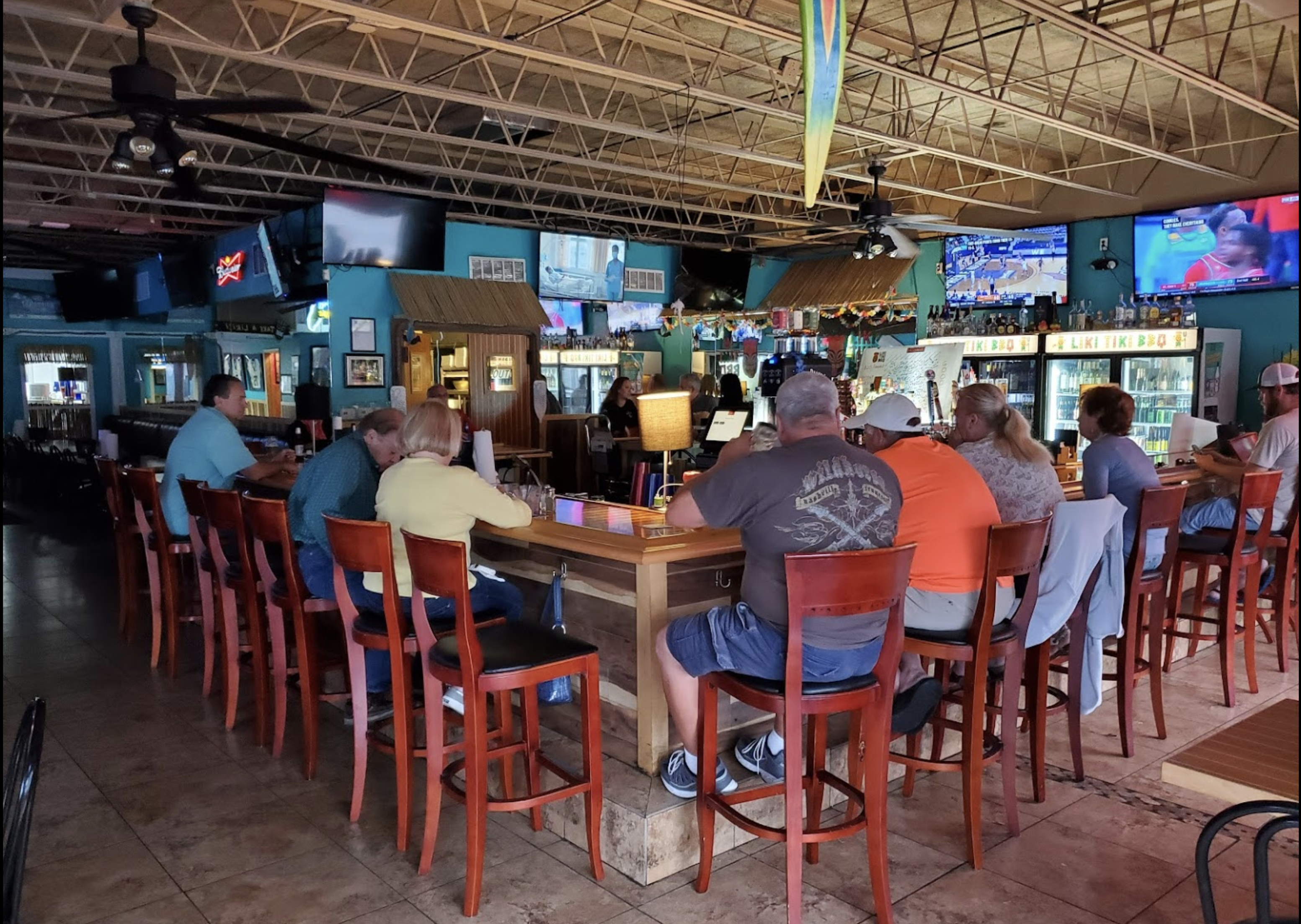 Liki Tiki BBQ Restaurant – Naples
Welcome to beautiful Fort Myers Beach and the Liki Tiki BBQ! Are you hungry, maybe a bit thirsty? Are you looking for a comfortable place with a lively atmosphere, and BBQ and seafood that is out of this world?
Then look no further than the Liki Tiki BBQ with daily happy hour, live music, and karaoke too! Experience the full beach life BBQ experience at Liki Tiki BBQ
Daily Happy Hour & Wide Variety of Libations Sure to Please
"What's that incredible smell at Liki Tiki BBQ?"
As you approach the entrance of one of the best restaurants in Naples from our parking lot, you will wonder what that amazing smell is. It is our BBQ, the finest in Naples' dining.
You will be happy to discover once you open the door that you found the source of your curiosity. Yet, with so many options, you may wonder if it was the BBQ ½ chicken that was slow cooked until tender perfection, or maybe it was the slowly braised to perfection baby back ribs or our amazing St. Louis Style ribs cooked with Dr. Pepper (yes, the drink). Other considerations, such as our piled-high slow-cooked beef brisket, may have you second-guessing your selection.
As you are marking your calendars for your immediate return, treat yourself to one of one of our in-house signature desserts such as Home-Made Apple Pie, or try a fan-favorite Randy's Famous Key-Lime Pie, or have a classic Root Beer Float. This Naples Dining experience will have you proclaiming that we are one of the best restaurants in Naples.
Rave Reviews:
"So impressed by this Naples restaurant. We were in the mood to watch a football game and have some better than pub food. Well, this hidden gem hit the spot. The clam chowder was delicious, and we are from New England. Actually, the best I have had down here in 7 years. Creamy and full of clams. The pulled pork dinner was delicious, and the cornbread was very good. My husband got the coconut shrimp, and they were excellent. Love the happy hour and the bartender Meagan was efficient and so nice. We will definitely be back."
-Amber Conran
"Grouper was fabulous, Samantha was great, and Julio is very accommodating. St Louis ribs fall off the bone, cooked to order fresh peel and eat shrimp – cocktail sauce PERFECT spiciness. Mai tai delish."
-John Goddard
"Great atmosphere. Amazing food. They usually have live entertainment every night which is a plus. Very clean. The staff is so friendly and very welcoming. The wings are the best in town."
-Jessica Young
"Had a surprise party in the back room here and all I can say is that Liki Tiki did a fantastic job with everything. Efficient service, and hot, delicious food. My group had no complaints about the food at all and we tried a variety of things. The pizza and wings are definitely a hit here. They were able to accommodate all my needs and will be definitely coming here again. Thank you Liki Tiki BBQ Naples for making an unforgettable night even better!"
-Gabriela Pergolini
"One of the best local bars in Naples. Bartenders are outstanding particularly Hailey & Julio. Go when Sal plays, he's the man. Can play anything Skynard."
-Erik Richards
"I like they had outdoor seating. The food was good, had chicken wings and salad. They have a big bar. The place was busy. The wait staff was awesome."
-Kimberly Christiansen
Live the Island Life – Follow Us on Instagram
Subscribe For Offers & Events
Subscribe for early access offers and event updates.